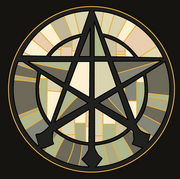 The Beyonders are one of the triumvirates in the game Pyre. Their sigil is a three-forked star. They are led by Sandra the Unseeing and appear in the Beyonder's Crystal.
Description
[
]
"To call the Beyonders a triumvirate is to stain the others' efforts. Yet, I am beholden to describe them here.
A pack of bandits, loosely organized under the Sisters of the Arch, they traveled all this way, into my land,to take the horned one's life. To kill my friend, Murr.
We thwarted them. We had them at our mercy. Mercy had become imperative to Murr. We spared their lives, but banished them to darkness, far beyond these lands.
Now and forever, the Beyonders cling to a beholden duty to confront the true triumvirates, whenever they so choose, so that whenever the true triumvirates clash, it shall be to their fullest extent."
- The Book of Rites, Chapter VII, page 147, "The Beyonders", In the Words of Ha'ub the Swallow, the Accursed
Members
[
]
See also
[
]