Jurassic World: Dominion Dominates Fandom Wikis - The Loop
Play Sound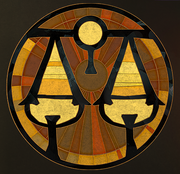 The Accusers is one of the Triumvirates in the game Pyre. Their sigil is a golden scale, and they are the first rival triumvirate you meet. They are led by Lendel and are first encountered at the Ridge of Gol.
Description
[
]
"The Accusers formed under Golathanian. He is a big man. He values justice, loyalty, and steadfastness.
Golathanian, he says that the Accusers take their name from one of his most accomplished legions, from his former military days. All among them, in fact, served the Master-General at one time.
They represent the stoutest-hearted men and women of the Empire, who held true, to Murr and Golathanian, to the end.
The golden colors of their raiments are reminiscent of their old shining armor, is his claim. Ever shall they seek out those with the truest spirits and the strongest sense of purpose to replenish their ranks."
-The Book of Rites, Chapter VII, page 129, "The Accusers", In the Words of Ha'ub the Swallow, the Accursed
Volfred's Roster
[
]
A vindictive triumvirate that conducted many Liberation Rites in the past, but seldom prevailed.
Led by the nomad Lendel the Liar. He is the cold-mannered head of the Accusers, and bears an old grudge against the Nightwings.
Notes: Their righteous traditions have given way to ruthlessness and spite.
Members
[
]
Lendel - Leader
Vispa - a female Nomad
Darben - a male Nomad
At a later point, Vispa and Darben are changed to the following:
Vispaleth - a female Demon
Darbenfor - a male Demon
See also
[
]